Bass Guitars
Akai Nineteen NinetySeven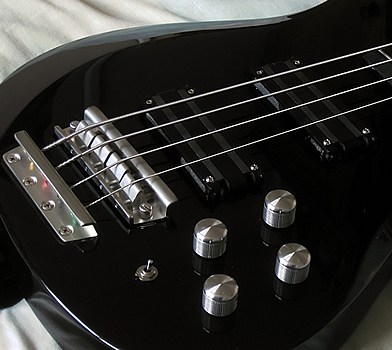 This bass was originally given to ex-Whitenake, Black Sabbath, Michael Schenker and Brian May Band bass guitarist Neil Murray by Akai on his 1997 tour of Japan with the Brian May Band. Neil has very generously passed it onto me.
The pickups have been changed by Neil to Lace Alumitone Bass Bars, and they really do enhance the clarity of the overall tone, and also give the bass another level of versatility.
---
Fender American Standard Precision V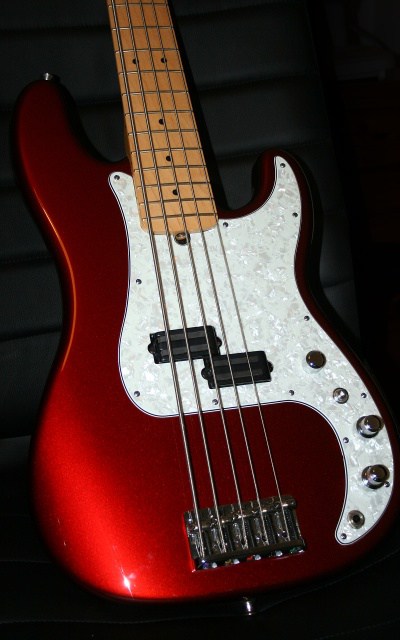 My second bass is a Fender American Standard Precision Bass V, bought new in November 2010. I have swapped out the stock Fender pickups for Lace Aluma-P models, as I love the tone Bass Bars' tone, depth and clarity.
I have also had the stock passive electronics replaced with a custom active John East EQ, running from a single 9V battery mounted in a rear compartment. A three-way switch toggles the EQ between active, passive and also turns the circuit off completely.
As well as the pickups and EQ, I have had a custom pick-guard cut from three-ply white pearl as the Lace pickups are the same length.
---
Tanglewood Rebel 4K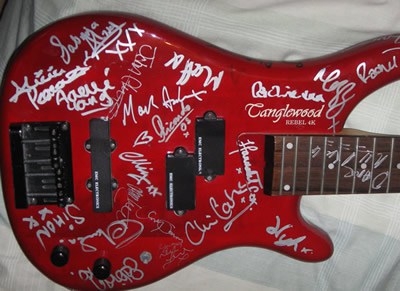 My first bass guitar was a Tanglewood Rebel 4K, which has now been signed by the cast and band over the last few years at We Will Rock You in London.
Among the signatures are both past and present cast, as well as Ben Elton and Brian May – I have retired it from use completely, and will one day become a display piece.