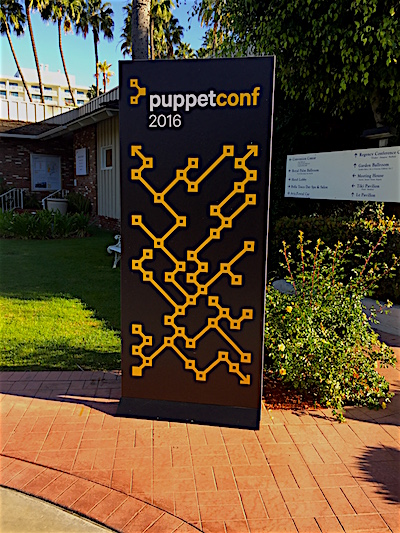 Two years after I last attended PuppetConf in San Francisco, I was given the opportunity to attend again, this time five hundred miles south in San Diego, and what a conference it has been.
The event started with the Puppet Contributor Summit, which involved celebrating the exceptional Puppet community, welcoming new contributors and getting together to hack together on various subjects - my subject of choice this year was adding much-needed and long-overdue rspec-puppet tests to my VMware Tools module, something which I hope to have more progress on in the coming weeks.
I had to duck out of the summit early as conference attendees had the opportunity to take the latest Puppet Certified Professional exam for free. Thankfully I passed, adding the result to the Amazon SysOps Associate certification I gained in August this year.

Offering free exams for attendees at PuppetConf is a very nice touch, and this community spirit is why I keep coming back to Puppet events. It's so refreshing to see an organisation embrace and support the community that has grown up around their product, and to dedicate an entire day of a conference to it is a great gesture.
Next came the start of the conference proper - there's been many blow-by-blow accounts of talks and keynotes from the event, so I won't pollute the Internet by repeating everything here. The Puppet blog has great overviews of the keynotes from day one and day two, and the newly-crowned Most Valued Puppeteer Ryan Nelson has a fantastic wrap-up to read. However, there were two talks that (for very different reasons) made the conference for me - I'll update this post when Puppet publish the video recordings of the talks.
The first was on Henrik Lindberg's talk on The Truth, nothing but the Truth on day one - I was fortunate enough to share the stage with Henrik at PuppetCamp Stockholm in November last year, and this talk was another philosophical deep-dive into language and meaning that had my brain reeling after the first fifteen minutes!
The second talk that pretty much made the eleven-hour flight almost halfway around the planet worthwhile was by Ben Hughes on the sobering subject of security and threat modelling. Quite frankly, this was the most hilarious, brilliant and to-the-point talks I've ever listened to, with snarky jokes and was a very refreshing break from the white-collar norm of "IT security" - and being British makes everything better!
Overall, PuppetConf proved to be a absolutely incredible event, a huge amount of credit goes to the Puppet event team for organising such a kickass conference - can't wait for San Francisco next year!